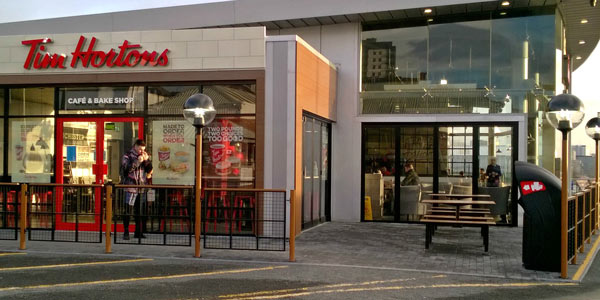 Canada's largest quick service restaurant chain, Tim Hortons Inc has recently opened up to the UK market.
Best known for its coffee and donuts, the multinational has fourteen sites in the UK with Salford now being the home of Tim Horton's first UK drive-thru.
The management team of the new branch based on the Bury New Road Leisure Park estate, approached Glasdon for solutions to litter and winter safety in time for their opening on the 18th December 2017.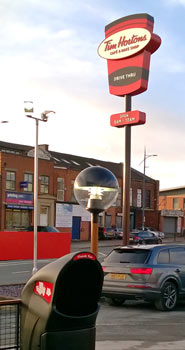 The
Combo Delta™ Large Aperture Litter Bin
, which has been designed specifically for fast food outlets, was suggested as the ideal solution to litter collection at the restaurant. Located by the exits, entrances and the outdoor eating area, it is conveniently placed for customers to dispose of their fast food waste before leaving the site. The bin features a large open funnel aperture with a target moulded inside to encourage diners to make use of the container rather than littering after they leave, and the curved, sloping hood helps funnel the waste into the sack, whilst providing weather protection. Also, as a drive-thru restaurant, the bin works especially well for customers who want to dispose of their rubbish without having to leave their car. The Americana fast food style fit out was completed with a solid black Combo litter bin with a red and white side sticker kit and 'thank you' top sticker kit to match the restaurants exterior. The Combo Delta has four colour options and graphic options which can be made to fit perfectly with any fast food drive-thru, retail park or theme park.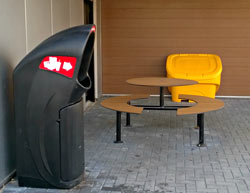 The Nestor™ 400 Grit Bin
was the second product chosen for the fast food outlet as a grit/salt storage container for tackling the UK's icy weather conditions. Along with the Combo Delta it is made from Durapol® material, which is designed to be hard wearing with excellent strength and durability and will not chip or rust. Its 400ltr capacity minimises the number of refills required and can be stacked up to 3 bins high to minimise the amount of space it takes up. The angled lid maximises storage space inside the bin preventing debris piling up on top and ensuring any liquid runs straight off, and the double-skinned lid and strong knuckle hinge with GRP rod provides excellent vandal and weather resistance. A full personalisation service is available to both products to make them unique to your company, which can be anything from your existing logo to having a message designed by our in-house graphics team.
Both products are ideal for fast food restaurants with their bold style exteriors and high-quality materials. They require minimal maintenance and offer an extremely long service life.
If you are interested in finding suitable products for your
fast food restaurant
or want to find out more about the Combo Delta™ and The Nestor™ 400 Grit Bin, please feel free to
contact us here
, or get in touch via our Live Chat feature at the bottom of this page.