Paultons Park, the home of Peppa Pig World, based in Romsey, Hampshire is a family orientated theme park with over 70 rides and attractions.
Voted by Tripadvisor as the UK's number one family theme park for 2018, Paultons Park, features themed areas including 'The Lost Kingdom' with animatronic dinosaurs and the newly opened 'Little Africa' animal area which sits alongside Peppa Pig World.
Covering over 140 acres of land on the edge of the New Forest National Park, the park also holds around 80 species of birds and animals.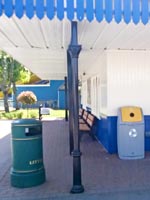 Achieving many awards such as the TripAdvisor Travellers Choice Award – No. 1 Theme Park in the UK and No.11 in Europe 2017, the park offers something for all ages to enjoy.
Paulton Park attracts over a million visitors each year and Glasdon is proud to have been a supplier to the park since 1997, helping them keep the attractions litter-free, clean and environmentally friendly for the families attending.
The park team have chosen litter bins to co-ordinate in the different themed areas, with the traditional looking
Glasdon Jubilee™ 110 Litter Bin
placed by the Carousel, and the Victoriana-style
Topsy Jubilee™ Litter Bin
next to flower beds and bunting.
Another consideration has been to have bins with multiple open apertures, so that visitors walking in any direction can easily dispose of their waste whilst on the move.
The Combo™ Catering Waste Bin was placed in the food court for collecting food waste, back to back with a Nexus® 140 Plastic Bottle Recycling Bin for collecting empty drinks bottles.
A recent Keep Britain Tidy survey found that the most commonly littered item is cigarette butts, making it even more important that theme parks to provide the means for smokers to dispose of their smoking materials correctly. As a family focused theme park, Paulton's provide designated smoking areas with cigarette bins to combat smoking litter.
Glasdon offers a wide range of litter and recycling bins with the option for graphics to encourage their use, as well as personalisation and branding options to fit in with the theme of your park.

Find out more about the bins purchased here:
Key features of the Topsy Jubilee™ Litter Bin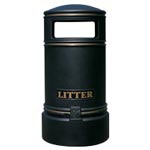 Manufactured from tough, corrosion resistant Durapol® material, offering exceptional strength and a long service life
Victoriana–style with a stylish textured finish
Sits perfectly in outdoor areas such as amusement parks, town centres and retail outlets
Key-locking system ensures security in busy areas
Gold litter legends and bands for visibility



Find out more
Key features of the Glasdon Jubilee™ 110 Litter Bin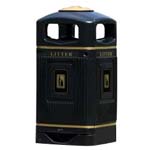 Traditionally designed for stylish aesthetics
Hidden lift-and-lock mechanism engages in a 3-point interlocking slam-shut door
Domed hood to prevent littering on top
Unique ribbed design deters fly-posting and graffiti
Four large apertures for easy access
Domed textured stubber plate in Gold or Gun Metal Grey



Find out more
Key features of the Combo™ Catering Waste Bin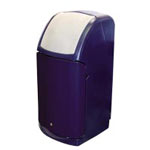 Multi–purpose food waste bin ideal for both indoor and outdoor use
Large 140-litre capacity
Smooth contours ensure no dirt traps and to allow for easy cleaning
Available with aperture flap or open front
Choice of tray top or front tray holder options available



Find out more
Key features of the Nexus® 140 Plastic Bottle Recycling Bin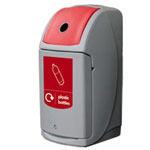 Can hold up to 100 x 500ml plastic drinks bottles as standard
Fully removable door
Sack retention system
Optional wheel kit available to help transport heavier loads
Moulded-in skirting board recess
Colour-coded aperture panels for easily identifiable use



Find out more
Key features of the Ashguard SG™ Free Standing Cigarette Bin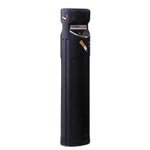 Double-sided cigarette bin for easy access from both sides
Two stainless steel stubbing grilles and apertures
Supplied with a 10-litre galvanised steel liner
Holds up to 3,500 cigarette butts
Ideal for outdoor smoking areas within workplaces or restaurants and busy areas such as towns and city centres



Find out more
Key features of the Ashmount SG™ Wall Mounted Cigarette Bin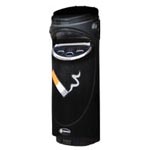 Wall-mounted with a stainless-steel stubbing grille and apertures
180-degree opening door with integrally-moulded knuckle hinge for easy access to the liner
Holds up to 1,050 cigarette butts
Ideal for waiting areas, outside offices and town centres
Anodised aluminium domed top
Permanent and lift-off wall fixing



Find out more
Key features of the Orbis™ Sack Holder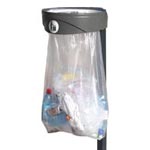 A clear sack enables high visibility to ensure security
Unique sack retention system
Can be available with or without lid
Ideal for attraction entrances, transport hubs, airports and sporting arenas where security is priority



Find out more
For more information on the range of
Outdoor Litter Bins
and
Cigarette Bins
that we offer, please feel free to browse our website or contact us today via LiveChat!