Glasdon have extended the Electra™ litter bin range to include an innovative range of recycling bins. Designed with modern environments in mind, the Electra recycling range can be used to create a unique, coordinated waste management programme.
The Electra recycling range is our most flexible product range yet. Featuring a variety of options, the Electra recycling range provides a solution to meet the recycling needs of your business. They can also be paired with the Electra outdoor litter bins to create a harmonised waste management scheme both inside and out.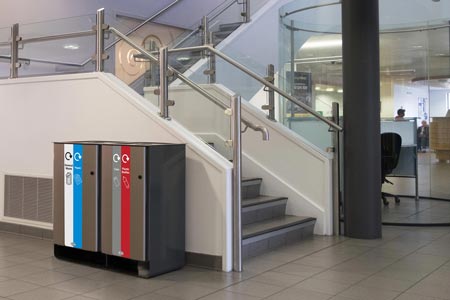 Introducing the Electra recycling range
With a selection of recycling bins ranging from the Electra 60 (a small, single-stream recycling container to the Electra 170 Quad (a large recycling station to collect 4 waste streams in one unit), you can have confidence knowing you're choosing the most suitable containers for your environment.
The Electra recycling bins are a contemporary development of the classic metal recycling bin. These indoor recycling containers blend harmoniously into modern locations thanks to their sleek design and subtle colours. The anodised and polished finish of the panels contrast with the umbra grey steel frame to create an attractive, refined appearance. Recycling has never looked so good, until now.
The Electra recycling range combines strength and style. All of our products in the Electra range are manufactured with Armortec®-coated steel framework and 100% recyclable Vandalex® body panels, making an environmentally friendly range of litter bins and recycling containers. These robust materials also help to provide a long-service life and ensure corrosion and maintenance is minimised.
Designed with modern environments in mind
The range of Electra recycling bins is ideal for new and modern indoor developments such as universities, retail and commercial developments, transport hubs and architectural business spaces. Flexible siting options are available for the Electra recycling containers and a paving fixing kit is included with purchase. The Electra 60 and the Electra 120 Duo have a slim, streamline design so we recommend using a free-standing base if you do not wish to fix these bins to the ground.
The recycling containers are supplied as standard without any graphics, allowing you to style the recycling containers however you desire. An extensive range of recycling graphics are available for the Electra recycling bins. Placing colour-coded, full-length graphics on the front and rear panels is a great way to help passersby easily identify the intended waste stream of the bin. You can also opt for screen-printed apertures to reinforce the colour scheme of your recycling programme and encourage participation.
If preferred, you can also choose between vinyl cut recycling graphics or graphics applied to the top of the bin. With a choice between bright & bold or minimal graphics you can develop the best visual solution for your company.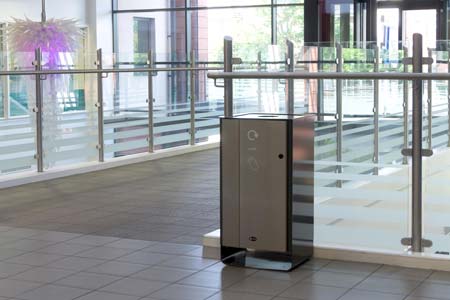 Recycling – it's personal
Recycling programmes are personal and what works for one business may not work for another. That's why we created the Electra Recycling range – we wanted to design an elegant range of recycling bins that will blend into modern environments and can be tailored to meet the personal needs of businesses. With the Electra Recycling range you can build a successful recycling programme that's both unique to your company and aesthetically-pleasing.
You can even personalise the Electra recycling containers with your company colours, logo or branding. Our team of friendly Graphic Designers offer a free in-house visualisation service so they can show you exactly how your chosen design will look before you place your order.
To find out more about our recycling solutions and the Electra range - contact us today or speak to one of our friendly advisors on LiveChat.
Wednesday, August 16, 2017