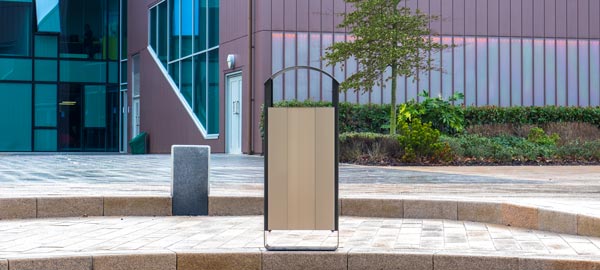 New Curve model joins the Glasdon Electra Litter Bin range.
The Electra litter bin is a stylish unit, perfectly designed for modern styled developments such as universities, retail developments, large transport hubs and architectural areas. The contemporary container combines strength and functionality, and is ideal for both internal and external applications. The new Electra Curve model utilises a curved hood in order to offer a unique aesthetic whilst coordinating with others in the Electra litter bin range.
The curved hood, as well as providing cover from the elements, also prevents unsightly litter from being left on top of the bin and stops overflow of the inside contents. Available floor mounted, or with a free standing base for environments where ground fixings are unsuitable, the Electra Curve has a slim profile, which provides flexible siting options.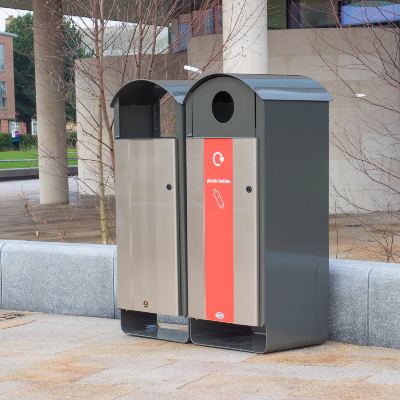 An Armortec™-coated steel framework and Vandalex™ material, 100% recyclable body panels ensure the Electra Curve is vandal and fire resistant, and has a long service life, as well as contributing to its environmentally friendly design.
The Electra Curve is also available as a recycling bin unit with dedicated, built in apertures for specific waste streams to avoid cross contamination.
An extensive variety of optional graphics are available for the Electra Curve, as well as complete personalisation, allowing you to tailor the look of the bin to suit your exact requirements.
Neil Gilkes, Sales Manager for Glasdon UK Limited said:
'The Electra Curve is a great addition to the Electra litter bin range. Its curved hood is perfect for both outdoor areas (as it provides a cover for the container) and places where litter is more likely to be discarded on top of bins, as its stylish design prevents this possibility.'
With 60 years of waste management experience, Glasdon is renowned for quality, design and cost effectiveness.
Talk to a member of the Glasdon team today, on (01253) 600410 or view the full Electra bin range here.