Practising good hygiene in our everyday lives has never been more paramount.
When it comes to waste disposal, finding ways to improve sanitation levels is a crucial consideration for every environment, and is one that should not be overlooked.
To help workplaces, schools, commercial businesses and more prioritise hygiene within waste management schemes, Glasdon have launched a range of hands-free, foot-operated pedal bins.
Pedal Bins: Hands-Free Waste Disposal for Improved Hygiene
Providing users with a hands-free method of waste disposal is an efficient way of mitigating the spread of germs in internal environments.
Hinged lids operated by tough, reinforced foot pedals ensure that hygiene levels can be maintained for both the user when depositing waste, and for the operator when cleaning and emptying. Smooth surfaces and contours are a feature on all Glasdon pedal bins, making them easy to clean whilst minimising areas where germs can harbour. Minimal maintenance is required to keep your chosen pedal bin in optimal condition.
These hands-free bins feature sack retention or bag holder systems to make sack replacement quick and easy. Alternatively, the Nexus® Shuttle Pedal Bin is also available with a solid wheeled liner and liner lid to contain the waste contents when manoeuvring and emptying.
Large, heavy-duty foot pedals are designed to withstand repeated use. The robust Hippo™ Pedal Bin is a prime example of this, which features a foot pedal mechanism proven to have a working life of over 100,000 presses. Many of our pedal bins also feature anti-slip feet, ensuring the bin does not move when operating the foot pedal.
Glasdon pedal bins are available in a range of sizes from a small 35 litres to a larger 85 litres, offering the flexibility to collect different types of waste in a range of environments. Our foot pedal bins are popular choices for waste management schemes within schools, offices, the food service industry, commercial environments and more.
To co-ordinate your waste management programme, the BigFoot™ Pedal Bin is available with personalisation available for company logos, branding or messages.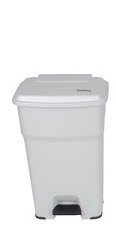 BigFoot Pedal Bin
Hands-free, foot pedal operation for maximum hygiene
Smooth surfaces ensure there are no dirt trips and are quick and easy to clean
Slow-closing lid mechanism eliminates noise & lid overlaps onto bin body to contain any odours
Compliant with HACCP food safety guidelines
Premium matte finish manufactured with high-quality, low maintenance materials

Find out more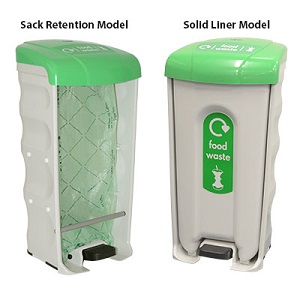 Nexus Shuttle Pedal Bins
Hands-free, foot pedal operation for maximum hygiene
Available with a sack retention system or a solid wheeled liner with additional liner lid
Large capacity perfect for high waste environments
Lidded aperture with lid-stay mechanism enables quick and easy replacement of sacks
Smooth contours ensure there are no dirt traps for easy cleaning & disinfecting
Tough, reinforced foot pedal meets food hygiene regulations & increases efficiency

Find out more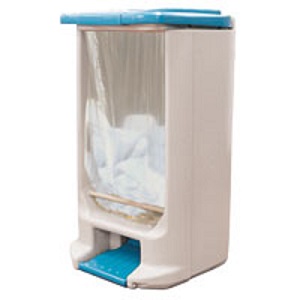 Hippo Pedal Bins
Hands-free, foot pedal operation for maximum hygiene
Extremely durable foot pedal mechanism proven to withstand over 100,000-foot presses
Smooth contours ensure there are no dirt traps for easy cleaning & disinfecting
Sack retention system makes sack replacement both quick and easy
Heavy-duty construction ensures longevity and maximum durability
Large capacity with dedicated graphics and visible contents reduces cross-contamination risks

Find out more
All Glasdon pedal bins can be supplied with custom graphics or stickers to collect segregated waste streams such as food waste, general waste, sanitary waste and more.
We also offer all of our pedal bins with standard graphics for the disposal of personal protective equipment. View our full PPE Disposal Bins range to find out more, or contact us via LiveChat today!