With technology on the rise, batteries have become a staple of everyday life.
Over 600 million batteries are thrown away each year in the UK, with only one third collected and recycled.*
Batteries contain dangerous chemicals including, lead, cadmium, zinc, lithium and even mercury, which are hazardous to the environment if improperly disposed of as the chemicals can leak into the ground, causing soil and water pollution.**
That's why it's more important than ever to recycle batteries.
So, what are the benefits of recycling spent batteries?


You can download our benefits of battery recycling infographic for free here or keep reading to find out more!
Benefit #1 Reducing Waste Sent to Landfill
Despite most types of batteries being recyclable, it is a common habit to throw away your unwanted batteries without thinking about where they will end up. By recycling used batteries you can help to reduce the amount of waste sent to landfill. Recyclenow are set to improve battery recycling rates by providing a service to locate your nearest battery recycling collection point.
Benefit #2 Preventing Pollution
Due to the heavy metal content, discharged batteries sent to landfill can corrode, releasing toxins into the air and land. These toxins can be harmful for the environment, highlighting the importance of battery recycling in order to prevent water, land and air pollution. Batteries that rot away in landfill sites can contaminate soil and water where animals and humans can be harmed.**
Benefit #3 Conserving Natural Resources
There is a finite amount of natural resources so it is our duty to protect these natural resources from further depletion. Batteries are produced from natural resources of metal elements such as lead, lithium, nickel and other rare earth elements. Battery recycling also saves on the significant carbon expenditure associated with metal extraction, transport, manufacture, storage, packaging and retailing of batteries that would otherwise be rubbish after use, and makes it possible to reuse materials that would otherwise be discarded. ***
Benefit #4 Producing New Products
Give used batteries a new lease of life by recycling them. Recycled batteries can be re-purposed to create new batteries or other appliances. Although they may seem small, some components of batteries can be used by the steel industry to create an array of products, such as new cars.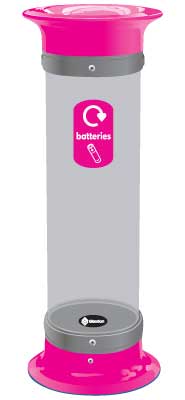 Benefit #5 Generating New Jobs
By committing to recycling you are helping to create new jobs in the recycling and manufacturing industries. A study by Friends of the Earth said that over 51,000 recycling jobs could be created in the UK, if 70% of collected waste was recycled and another 18,800 jobs would be created if commercial and industrial waste were recycled at the same rate. Action to stop products that can't be recycled being sold could take the recycling rate to 75% by 2025.**** Given the ability of recycling to generate jobs, responsibly recycling batteries will positively impact both the economy and the environment.
Benefit #6 Take Charge and Think Positive
It is never too late to turn a negative into a positive and make the first step to recycling your unwanted batteries. Glasdon supply a selection of battery recycling bins, designed to contribute to the battery recycling effort. Which could be used as battery collection points for supermarkets, schools and workplace environments.
Cover our range of recycling containers for batteries and start doing your part to create a sustainable environment with just one small battery at a time!
Sources:

*https://www.recycle-more.co.uk/files/battery_leaflet.pdf
**https://www.recycle-more.co.uk/why-recycle-/why-recycle-batteries-
***http://www.renewableenergymarketing.net/battery-recycling-benefits/
**** https://www.thebalancesmb.com/recycling-and-new-job-creation-2878003