Acton Parish Council in Suffolk have recently provided their residents with a Glasdon Heritage waiting shelter at the High Street, Queensway bus stop. The shelter helps provide cover from adverse weather and blends perfectly with the village's traditional and charming style. This eye-catching bus stop shelter has been paired with a Topsy 2000 litter bin to help keep the area waste free and convenient for the public to use.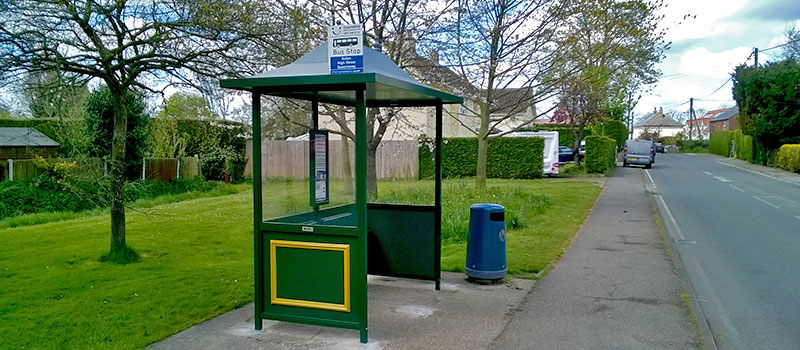 Our Heritage shelters are perfect for using at bus stops and passenger waiting areas, as they offer optional features such as timetable boards and integrated perch seating. This traditionally styled waiting shelter is also supplied with spigoted legs which may be adjusted to compensate for an uneven base. Glasdon shelters can be adapted in size and configuration to meet the needs of disabled persons, particularly wheelchair users, in accordance with the guidelines set by the Department of Transport.
Our Topsy 2000 litter bin is purposely designed to make emptying easy, the whole bin body lifts off the base which removes the need for strenuous lifting. This colourful outdoor litter bin is constructed from our robust Durapol material to give the bin a long life expectancy and help it to stand up to any possible vandalism or misuse.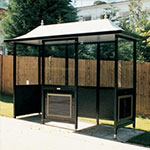 Design features of the Heritage Shelter
7 standard layouts
Supplied ready for immediate fixing
Panels available in toughened glass, thermoplastic glazing or GRP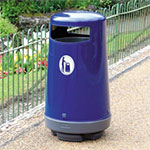 Design features of the Topsy 2000
Hood mounted ashtray
Choice of ground fixing options
Option to personalise with your council name/crest

To find out more about our full range of waiting shelters and outdoor litter bins please get in touch:
Email enquiries@glasdon-uk.co.uk
Call 01253 600410
Or use our Live Chat feature on this website
Wednesday, October 12, 2016