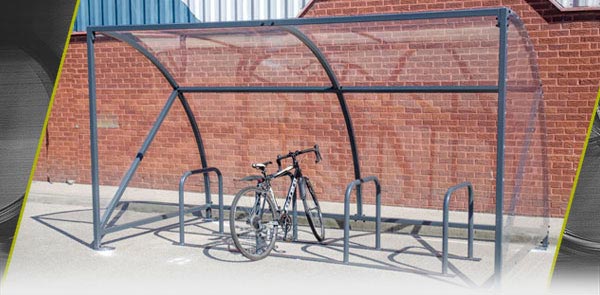 Glasdon's multi-purpose solution makes choosing your next shelter a breeze.
With a modern yet functional and cost-effective design, the Echelon Shelter is delivered fully assembled and ready for immediate installation.
The Shelter's robust, Armortec® coated mild steel frame is resistant to corrosion and vandalism, whilst UV protected, curved, clear polycarbonate panels provide excellent overhead cover. These high quality materials ensure Echelon requires minimal maintenance throughout its long service life.
Optional 'toast rack' stands are available for up to 10 bicycles, as well as polycarbonate end panels, which provide further protection from the elements. The Echelon Shelter has been thoroughly tested by a structural engineer to ensure it is able to withstand strong wind and harsh weather conditions. Typical uses include cycle, smoking and waiting shelters.
Neil Gilkes, National Sales Manager for Glasdon UK Limited said:
"Our customers look to us for quality, design and cost effectiveness, and the Echelon ticks all the boxes. As well as being incredibly easy to install, its stylish design fits seamlessly into most environments."
View our full range of shelters or talk to a member of the Glasdon team today for more information on (01253) 600410.
Wednesday, January 16, 2019