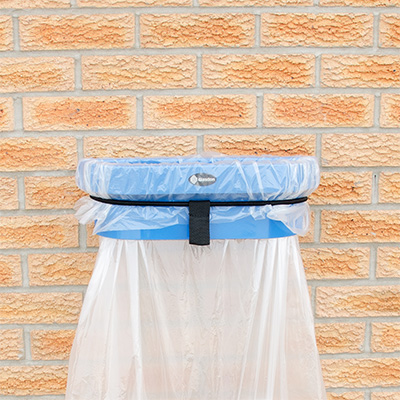 TSU™ Sack Holder solves city paper waste problems.
Designed to comply with national security guidelines, the
TSU (Transport Security Unit) Sack Holder
is the ideal paper and non-recyclable combined waste solution for transport and leisure locations.
Featuring two easy access apertures with a large capacity for clear waste sacks, the TSU Sack Holder enables high visibility alongside durability and vandal resistance. The TSU wall mounted model also achieves a 3-star blast test performance rating, ensuring safety in areas where security is paramount.
The TSU Sack Holder's clear designated and colour coded apertures make waste sorting simple at point of entry, by way of both colour and shape. Used papers are inserted into the front, slim aperture, whilst non recyclable waste collects in the rear, larger aperture.
Neil Gilkes, Sales Manager for Glasdon UK Limited said:
"With the TSU Sack Holder, our customers will be able to increase their recycling rates whilst significantly reducing their waste to landfill. The addition of a slim front aperture will help prevent waste contamination and reduce the sorting time too.
The TSU encourages recycling and safety in transport and community locations, and exceeds the UK Home Office requirements to be placed in strategically critical transport locations, which is really important to many of our customers."
With 60 years of Waste Management experience, Glasdon is renowned for quality, design and cost effectiveness.
View the new TSU Sack Holder here, or talk to a member of the Glasdon team today for more information (01253) 600410.