With an expected commencement date of October 1st, 2023, the Waste (Amendments) (Wales) Regulations 2023 will introduce new separation and recycling requirements for all business, public and third sector premises in Wales.* Are these upcoming regulations set to affect you?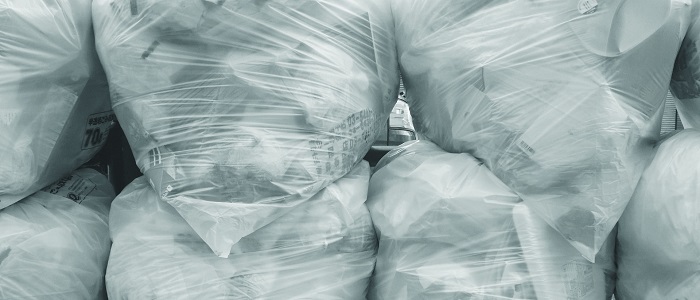 The new regulations will propose three sets of separation requirements in connection with non-domestic premises. In essence, they are targeting recyclable materials to be further segregated from normal materials in the same way that most householders currently do.
The aim is to change the way recyclable materials are collected and stored within the country and ultimately improve the quality and quantity of how waste is collected and separated. Alongside this, the Welsh Government has set a national target to recycle 70% of its waste by 2025 and eventually become a zero-waste nation by 2050*.
The three sets of regulations are as follows:
I. New Separation Requirements:
Require the occupiers of non-domestic premises (including businesses, charities and public sector bodies) to present specified recyclable materials for collection separately from each other and separate from residual waste.
Require those that collect the specified recyclable materials to collect them separately from other recyclable materials.
Require those separately collected recyclable materials to be kept separate and not mixed.
Provide for civil sanctions to be available in relation to criminal offences associated with these requirements.
II. Incineration and landfill bans, specifically to:
Ban specified separately collected recyclable materials from non-domestic and domestic premises from incineration and landfill.
Ban all wood waste from non-domestic and domestic premises to landfills.
Provide for civil sanctions to be available in relation to criminal offences associated with these requirements.
III. A ban on the disposal of food waste to sewer, specifically to:
Commence a ban on the disposal of food waste to sewer from non-domestic premises.
Provide for civil sanctions to be available in relation to criminal offences associated with these requirements.
Who is Affected?
These legal requirements to separate their waste will affect the following:
The occupiers of businesses, the public sector and third-sector organisations who will need to separate their waste ready for collection.
Those who collect the waste or arrange for waste to be collected.
Those who collect, keep, receive, treat or transport waste must not mix the waste with other types of waste or substances.
These alterations signify that your recycling bins may need to be updated according to your business needs.
If your organisation doesn't already follow a recycling programme, now is the perfect time to introduce one. Our recycling eBook to Creating a Successful Recycling Programme will provide you with all the information you need to create and action an efficient and effective waste programme within the workplace.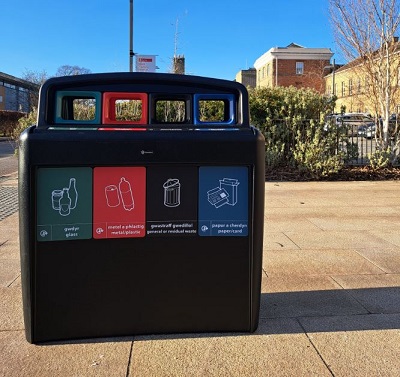 Targeted Materials for Separation and Solutions
To comply with the new legislation, the segregation of the targeted materials must happen at the point of the disposal using dedicated solutions to capture this waste. But what are the targeted materials you may ask, and what are the best tools available to do so?
Let's look at these targeted materials and some possible solutions to help your organisation both indoors and outdoors. The six specified recyclable waste materials to be targeted for separate collection are:*
1) Food waste produced by premises producing more than 5kg of food waste a week.
We provide purposely designed food waste bins for the catering industry, ideal for hotels, restaurants, cafes and areas where food is prepared or consumed. With easy-to-use foot pedals and large apertures, our bins make the act of disposing food waste effortless and hygienic.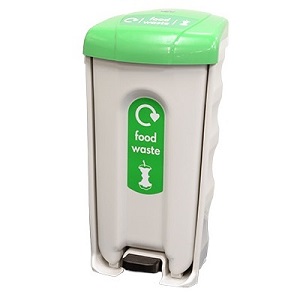 The Nexus® Shuttle is a versatile catering bin with three liner options to suit your indoor operational environment. Collect up to 60 litres of waste with the standard sack retention model or utilise the adjustable shelf to limit the waste and collect up to 30 or 40 litres of waste.
To address outdoor food waste, consider the Combo™ Waste Bin. This large apertured container can collect up to 140 litres of waste, whilst its robust and durable design ensures it can withstand extreme temperatures and various weather conditions.
2) Paper and card – including clean printed/unprinted, paperback books, newspapers and catalogues.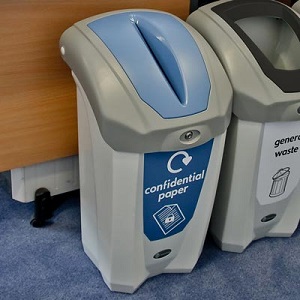 To assist businesses in the capture of paper waste, we offer a range of confidential paper waste bins, the perfect accompaniment for offices. Safeguard confidential paper waste in your organisation with our lockable bins, available in a variety of different styles and capacities.
A handy sized Nexus® 30 offers a compact route to paper recycling, with its slim design making it easy to site under or next to desks. Meanwhile, for businesses that collect large volumes of paper waste, the Nexus 140 is the preferred choice.
3) Glass – including clean glass jars and bottles (all colours)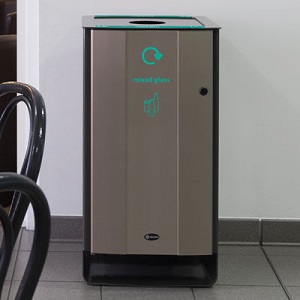 We offer glass waste stream alternatives across multiple products in our indoor and outdoor recycling bin range. Looking at Indoor recycling solutions, the contemporary Electra™ 60 Mixed Glass recycling bin is the ideal addition for modern offices and canteens. Utilising an Armortec®-coated steel framework and Vandalex® body panels for vandal resistance and substantial service life.
As an outdoor recycling alternative, consider the Modus™ 770 Mixed Glass Recycling Housing – suitable for commercial areas with high footfall like retail parks and promenades.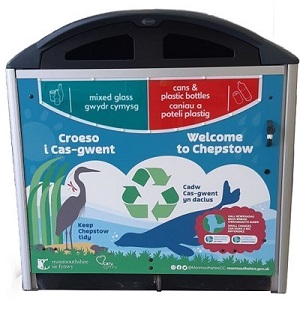 Recently, we joined in with the Caru Cyrmu movement to Keep Wales Tidy in the town of Chepstow. They used our personalisation services to turn words into action and demonstrate their ambitions to protect the environment and their local wildlife. They transformed their high-capacity recycling unit into a bright and engaging 50/50 waste stream dedicated to capturing both mixed glass and cans & plastic bottles.
4) Metal, plastic, cartons and other fibre-plastic based packaging – including plastic bottles & lids and steel & aluminium drinks cans.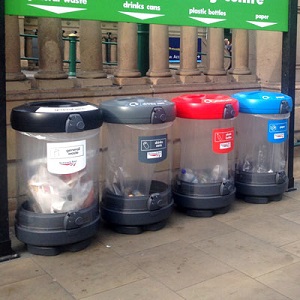 We offer a range of plastic bottles and metal can recycling bins and units to aid in the capture of single-use drinks containers. For example, take the C-Thru™ 180 Plastic Bottle Recycling Bin and the alternative Can Recycling Bin. These large capacity and clearly visible recycling bins are ideal for multiple types of food-orientated areas where easy inspection may be required such as canteens, cafes and even schools. A clear body means the reduction of cross-contamination of recyclable waste and the enabling of easy viewing of contents for removal, saving time and unnecessary manual handling.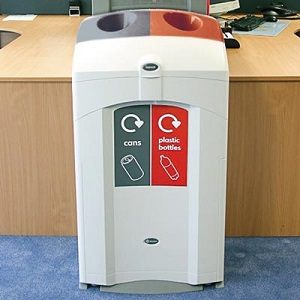 Whilst single target waste stream solutions are effective, we also manufacture solutions that combine two or more waste streams together. The Nexus® 100 Recycling Bin Range is an exceptional example, combining 2 x 50-litre capacity containers of all the major waste streams, including Can/Plastic Bottle recycling. Collect both materials inside one sleek design without taking up valuable floor space, whilst a drip tray in the base of the door sees the prevention of waste liquid from leaking.
It is intended that the separation and collection requirements for small waste electrical and electronic equipment (sWEEE), and textiles from non-domestic premises are to be phased in after the coming into force date, by up to two and three years respectively.
5) Unsold small electrical and electronic equipment (WEEE) – Including IT and telecommunication equipment with external dimensions no more than 50cm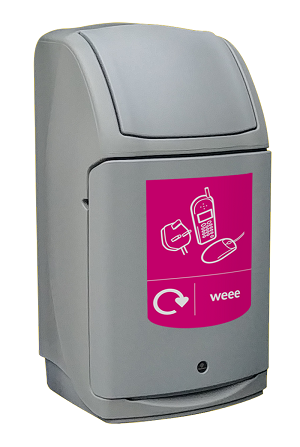 The Welsh Government has outlined an extensive list of unsold small WEEE appliances, requiring separation. These include items from video cameras and toasters to printers and routers. To see the full list, please see the consultation documents on the Separate collection of waste materials for recycling: A code of practice for Wales.
6) Unsold textiles – including clothing, mattresses, soft furnishings, rugs.
Targeting unsold textiles such as; clothing, mattresses, soft furnishings, carpet, rugs and leisure textiles. Any waste textiles that contain hazardous substances may not be suitable for recycling and must be appropriately managed.
Be Prepared
Nearly all businesses will handle at least one of these designated materials and with the date of implementation just around the corner, it would be resourceful for business owners to begin, or start to think about implementing solutions for waste segregation.
If you need further assistance in purchasing the right bin for your recyclable waste, take a look at our useful How Do I Choose a Recycling Bin guide to answer some of the most commonly asked questions about selecting the right recycling bin for you.
For more information and guidance on these legislative proposals, please visit this article on Separated waste collections for business, public sector and third sector organisations, published by the Welsh Government.
References
https://www.gov.wales/consultation-separate-collection-waste-materials-recycling-code-practice-wales-html
https://www.gov.wales/consultation-separate-collection-waste-materials-recycling-code-practice-wales-html
https://www.gov.wales/sites/default/files/consultations/2022-11/separate-collection-of-waste-materials-for-recycling-a-code-of-practice-for-wales_0.pdf
https://www.gov.wales/separated-waste-collections-business-public-sector-and-third-sector-organisations