Cigarette butts may be small, but they can have a big impact on the environment when they are incorrectly disposed of - even more so as they are reportedly the single most littered item according to a Keep Britain Tidy* study.
The same study* found that litter from smoking materials is visible on 72.8% of all sites, continuing to create worldwide environmental and health issues.
Did you know that the presence of litter in a community has been found to make people feel less safe**? Not only is cigarette litter detrimental to wildlife and ecosystems, but it could also mean your business is unknowingly losing its appeal – what measures can you take to reduce cigarette butt littering in and around your workplace?
By making some small changes to your workplace's environment, you can deter smokers from littering their cigarette butts, creating a cleaner and healthier environment for both your employees and community.
---
1. Create more opportunities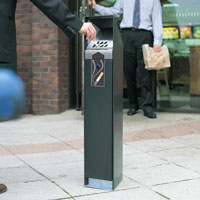 As reported by Keep Britain Tidy*, on average over 92% of industry, warehouse and retail sites contain litter from smokers' materials.
By choosing to supply accessible cigarette bins, you are providing smokers with the opportunity to dispose of their cigarette butts in a proper manner and deter any further littering.
Try focusing on the placement of smoking solutions at points where smokers are more likely to need disposal units such as entry and exits.
Take the first step and create the opportunity for litter reduction for your employees. We have a selection of cigarette bins and wall mounted ashtrays that are designed to encourage the proper disposal of cigarette waste.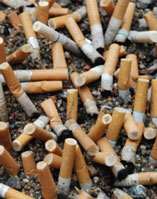 2. Educate your employees
Contrary to popular belief, cigarette butts are not biodegradable, so it is important to educate your employees and stakeholders about the impact of being careless with their cigarette waste. Provide positive signage to remind employees how they are helping the environment when they make the conscious decision not to litter.
In the UK, businesses that fail to display 'No Smoking' signs indoors can be fined, so make sure you display some smoke free signage within your building or premises.
We attend various exhibitions throughout the year where we love speaking to you and providing the information and expertise you need to educate your employees. See us at our next one!
3. Extend your efforts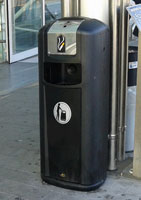 Areas with overflowing or dirty bins are reported to have a higher cigarette butt littering rate than sites with well-presented, hygienic waste solutions*.
By extending your waste management efforts and ensuring your cigarette bins are emptied frequently to maintain maximum hygiene, you can help to improve the cigarette littering rate at your business.
Choose from litter and cigarette bin combos, wall mounted cigarette solutions, as well as outdoor litter bins enhanced with smoking control solutions such as stubber plates or aperture grilles to combat cigarette waste.
We also recommend providing additional litter and recycling points, to encourage your employees to utilise all of your available waste streams and reduce even more littering at your workplace. Why not take that extra step and organise a company clean-up?
With a huge selection of outdoor recycling containers available, co-ordinating your smoking solutions is easy! Take a look at our range, we're sure we will have something to suit you.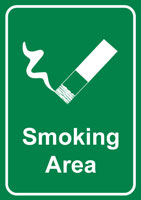 4. Designate specific areas for smokers
It may be beneficial to designate particular areas in your workplace as smoking areas. This will act as a smoking control mechanism and enable you to collect cigarette butt litter in concentrated areas. By providing a comfortable environment with smoking bins, lighting and smoking shelters, your employees will feel more obligated to use them.
View our guide on creating a clean and safe smoking area for more information.
Don't forget - we can personalise your outdoor cigarette ashtrays and litter bins to ensure all the units fit perfectly into your organisation's environment.
Are you ready to conquer cigarette butt litter at your workplace? Shop now or contact us today!
Sources:
*http://www.keepbritaintidy.org/sites/default/files/resources/KBT_How_Clean_Is_England_LEQSE_Report_2015.pdf
**http://www.keepbritaintidy.org/faqs/advice/litter-and-law