At Glasdon, we provide a range of manual salt spreaders, all of which will help protect your workplace from frost, ice and snow.
Our simple-to-operate, manual spreaders are ideal for use with rock salt, grit or ice melt (we recommend Glasdon Icemelt™), whilst also offering a low maintenance solution for coverage over wider areas.
Take a look at our range of manual salt spreaders below: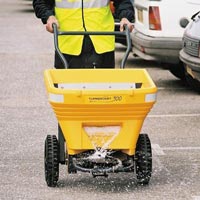 Spreads dry, damp or wet grit/salt mixture
Balanced weight distribution, meaning unit can easily be pushed along, even when fully laden
Hopper manufactured from corrosion-resistant, double skinned-Durapol®
Easy to empty
Slim design
Range of settings allows accurate controlled dosing
All-mechanisms are protected to prolong service life
Solid rubber-cushioned tyres
The Turbocast 300 also comes with the option of a servicing package. For more information on this, as well as some further maintenance advice and top-tips, take a look at our guide to keeping your grit spreader in perfect working order.
Icemaster Manual 50™ Salt Spreader
Corrosion-free Durapol Material hopper holds up to 55kg of dry de-icing sale (we recommend Glasdon Ice-Melt™)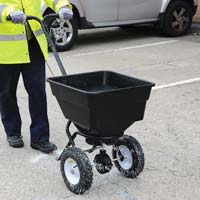 Broadcast spinning thrower plate spreads the material evenly and consistently, the faster you walk, the further it spreads!
Low maintenance materials for hassle-free use
An adjustable flow control mechanism determines the amount of gritting material released
The rotary agitator allows for a consistent spread by breaking up the grit salt
Removable mesh filter sieves the spreading product before it enters the hopper
Sealed Durapol Material gearbox protects gearing system from harmful contaminants

If you would like any further information on any of our manual salt spreaders, why not contact us today?
Alternatively, browse our wider winter safety range, where you can also find towable salt spreaders, grit bins, snow shovels, Icemelt, Ice Grips and salt spreader servicing packages.
Monday, December 17, 2018