At Glasdon, we design and manufacture towable salt spreaders that are ideal for dispersing grit and/or rock salt, across large surface areas.
Our towable spreaders are most at home on private roads and multiple carparks, whilst also encompassing environments where manual gritting would be inefficient, and potentially dangerous.
Take a look at our towable salt spreaders below, and help identify which could be the perfect addition to your workplace:
Turbocast 800™ Towable Salt Spreader
Durapol® Material hopper will not rust, chip or erode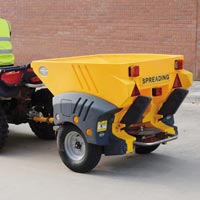 Consistently distributed spread of up to 8 metres
Unique agitation mechanism spreads wet or dry grit/salt
ON/OFF switch for drive engagement, minimising wastage whilst travelling between sites
Spread adjustment mechanism for complete control of spread output from 5 to 40 g/m2
Low maintenance stainless steel chassis, drive mechanism and broadcast spinner plate
Adjustable height tow bar with pin hitch, or ball hitch, coupling
Adjustable speed control allows for uniform speed output range from 5 to 20 mph
Maximum payload: 250kg of wet brown rock salt
Turbocast 1000™ Towable Salt Spreader
Can be used as either a broadcast spreader, or a drop spreader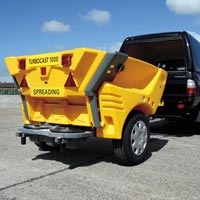 Converts from broadcast spreader to drop spreader with unique twin side deflectors
Drop spreading can be accurately controlled, eliminating waste
Broadcast spreading a large area quickly, with minimum passes
3 speed-rate adjustable settings
Supplied with either a pin-hitch or ball-hitch attachment, for use with the widest range of vehicles
500kg capacity Durapol hopper
New shut-off lever allows the machine to be turned off when loaded with grit
Light cluster compromising of rear brake, number plate, indicator and rear fog lights, powered by 7-pin plug
***Please note: The Turbocast 1000 is NOT permitted for use on public highways
Remember: Without proper maintenance, you won't get the most out of your salt spreader, and even risk putting it out of action altogether.
To avoid this, follow our guide to keeping your salt spreader in perfect working order, where you'll also find a host of maintenance advice and top-tips, as well as extensive information about our excellent Turbocast Servicing Packages.
For more information on any of the products mentioned above, or to browse our wider winter range, visit our website, where you can take part in a free live chat, today!
Monday, December 17, 2018