We acknowledge that no two projects are the same and our customers often require buildings to suit individual requirements. However, supplying suitable facilities for staff that provide comfortable and functional workspaces is an essential deciding factor.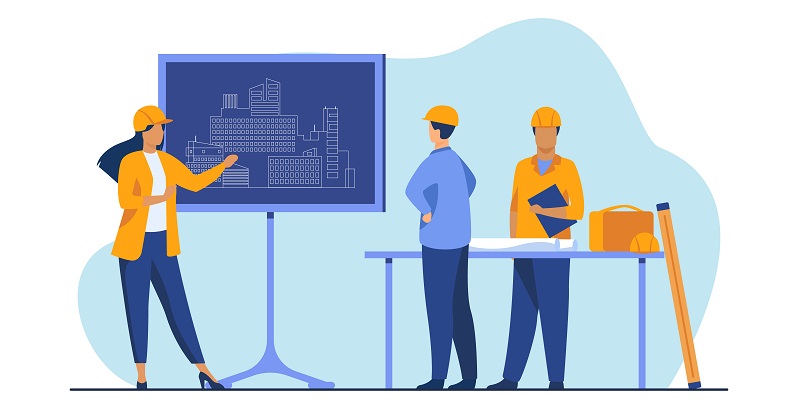 Glasdon is a leading producer of modular buildings and kiosks. Pre-assembled, durable structures that are available in a range of sizes and ideal staff accommodation for a variety of industries. As with all our products, from Recycling Bins to Road Safety Products; adaptability is at the forefront of all our designs, and this ethos is built into the very core of our Buildings and Housings products.
Below we'll explore the types of staff accommodation required across a variety of sectors, offering our Glasdon solution as an example for each.
24hr Security Accommodation
To provide good site security with a prominent and authoritative presence.
Our Beacon™ building system is considered by many of our customers as their first choice for prestigious projects where a high level of user comfort is required and is ideally suited for 24hr occupation. Full-width glazing provides excellent site security surveillance to monitor operations, whilst CCTV cameras and corporate signage can be conveniently fixed to the roof fascia. A wide range of panel options ensures maximum flexibility and an extensive range of optional features including lighting, heating, air conditioning and welfare facilities are also available. Although offered with standard panel increments of 0.61, 1.22 and 2.44m, Beacon buildings can be manufactured to suit specific sizes (maximum width of 4.27m). As well as conventional quadrilateral layouts, Beacon buildings are available with an octagonal or 45 degree bull-nosed footprint.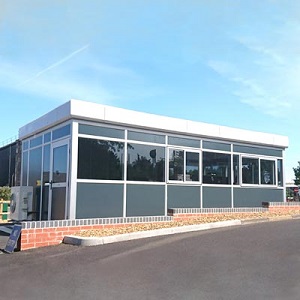 Excellent level of thermal insulation cuts heat loss during winter and heat gain during summer.

Concealed rainwater management system guides run-off to ground-level corner outlets.

Attractive internal wall lining and suspended ceiling.

Perimeter roof fascia provides convenient fixing points for signage.
Find out more

Office Accommodation
To provide spacious and comfortable temporary or permanent office accommodation to staff.
The Consul™ range offers eleven different sizes to suit a variety of requirements from a 2.44 x 1.22m through to 7.32 x 3.66m external footprint providing maximum comfort for personnel whether used externally or internally. The Consul can also be configured with a wide range of optional features including electrical installations, worktops and welfare facilities.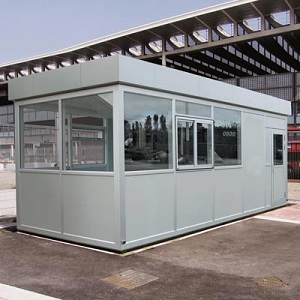 Adaptable wall configurations from a variety of standardised 1.2m wide composite panels.

Robustly constructed with an aluminium frame and treated softwood timber chassis.

Internal suspended ceiling provides a carrier for electrics and light fittings.

Thermal break extrusions and insulated panels reduce energy costs and create a comfortable working environment.
Find out more
Relocatable Accommodation
To provide a secure and weatherproof space for security personnel in areas where space may be limited.
The Genesis™ range provides quality and convenience for a range of applications. Robust, practical and multi-functional, the Genesis is available in six standard models with a choice of optional features to meet your requirements. Personalisation to match corporate brands/logos is also available ensuring Genesis provides an eye-catching addition to any site.

Excellent internal and external finish – aesthetics and low maintenance.

Fully flame retardant panels.

Textured grip surface flooring

Galvanised frame and ground fixing plates.

Extremely flexible range of external graphic options.
Find out more
Looking for protection of valuable electrical equipment or network technologies?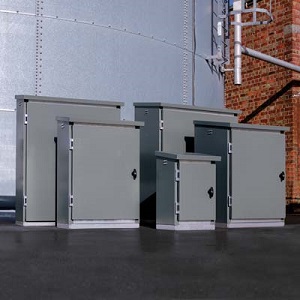 Glasdon also designs and manufactures a reliable range of External Enclosures & Outdoor Cabinets that offer a long-term solution to safeguarding sensitive equipment. Requiring minimal upkeep, these plastic-coated steel cabinets shield against corrosion and retain their appearance over many years.
For example, the Citadel™ range of cabinets is available in five industry standard sizes, with the option for IP56 rated or ventilated version. Citadel cabinets are manufactured to meet the demands of industrial and commercial applications.
For more information on the topics discussed, please Contact Us or talk to a friendly member of our sales team via LiveChat today!