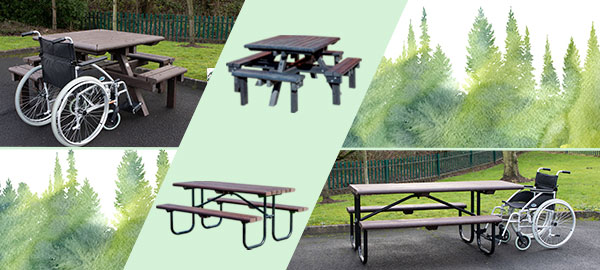 Bowland™ and Pembridge™ join eco-friendly picnic table range.
The new benches offer easy seating access, and are able to accommodate up to eight people in most environments. Their weather-proof, robust designs are enhanced by the rounded sections on all seats and table edges providing comfort and safety.
Wheelchair access models are also available for a more versatile and inclusive solution to the picnic tables. The Bowland Picnic Table with Wheelchair Access provides seating for up to two wheelchairs or mobility scooters, and four standard seating positions, while the Pembridge Picnic Table with Wheelchair Access seats six people with space for a single wheelchair or mobility scooter.
Manufactured using 100% recycled material; the attractive Pembridge Picnic Table is traditionally designed, durable and sustainable. Pembridge is available with black or brown Enviropol® material slats, or self-coloured Timberpol® material slats for a more natural wood-effect look.
The Bowland Picnic Table offers a contemporary twist on picnic table design. Combining a curved Armortec® coated mild steel frame with a choice of seven different coloured, environmentally-friendly material slats, this picnic table offers strength, style and sustainability.
Neil Gilkes, Sales Manager for Glasdon UK Limited said:
"Innovation and sustainability are two of Glasdon's core values. These picnic tables are a great example of our quality, design, and cost effectiveness, as well as being stylish and eco-friendly outdoor seating options."
View the new range of eco-friendly picnic tables here, or talk to a member of the Glasdon team today for more information (01253) 600410.