In your search for outdoor seating solutions you may have discovered park benches manufactured with recycled plastic or picnic tables made from recycled material.
As consumers, and particularly since the pandemic began, more of us than ever before are actively seeking out eco-friendly products and sustainable brands and businesses.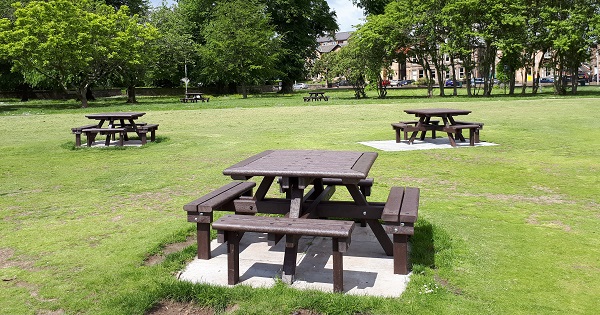 However, when buying on behalf of the business, organisation or community, there is inevitably more pressure to make sure that the quality and sustainability of the products we choose stand up to their environmental credentials.
Traditional wooden seating solutions, particularly picnic tables have always been a popular and trusted choice for outdoor seating areas, but we're seeing more of our customers enhance their facilities and outdoor spaces by switching to recycled material seats, benches and picnic tables.
And here's why...
Sustainable by Design
So what is a Glasdon recycled material seat actually made from?
Our specially formulated Enviropol material is not only manufactured with 100% recycled plastic, it is also 100% recyclable at the end of its service life.
Enviropol is predominantly produced from post-consumer polyethylene and polypropylene, made up of carrier bags, pots, tubs and trays, a large majority of which are single-use plastics.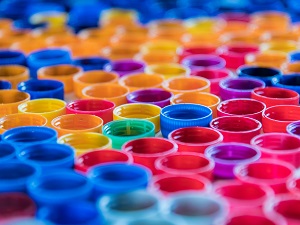 As an example, the Enviropol seating slats on the Glasdon Pembridge™ Picnic Table
could contain as many as 102,420 recycled bottle caps!*.
The benefits of using Enviropol also go further than its circular economy based credentials and are integral to its real-world sustainability.
The density, strength and weather-resistance of Enviropol will ensure a long, virtually maintenance-free service life. It is self-coloured (available in either brown or black) and unlike wood, needs no painting or surface treatment ever.
The material is resistant to chemicals and impervious to water, frost and most corrosive substances.
And by choosing a Glasdon product that uses Enviropol or other recycled material there is a direct reduction in emissions. This translates to a reduction of 1.3-2.8 tonne CO2e per tonne of plastic produced from recycled material compared to virgin materials (depending on plastic resin type**). Therefore, by choosing a recycled material product there is a significantly smaller carbon footprint.
All of these qualities combined really set recycled plastic seats and benches apart from traditional solutions and naturally help you raise the benchmark for customers, visitors and colleagues.
Glasdon Products Manufactured with Enviropol® Material
Many of our seats, benches and picnic tables offer the option of Enviropol slats and seat ends.
Learn more about the different materials we use to manufacture Glasdon seats and benches.
Alternatively, please talk to our team of experts today. We're available via LiveChat on this website or don't hesitate to contact us or request a callback.
Notes:
*Enviropol is made of mixed polyethylene and polypropylene, and therefore would not contain all the same recycled product, the example shown is for reference only.
**2016 World Economic Forum report "The new Plastic Economy – Rethinking the future of plastics" and 2015 Deloitte report.