Extra-large capacity bins and wheelie bin housings are helping councils, communities and businesses combat littering and get the message across.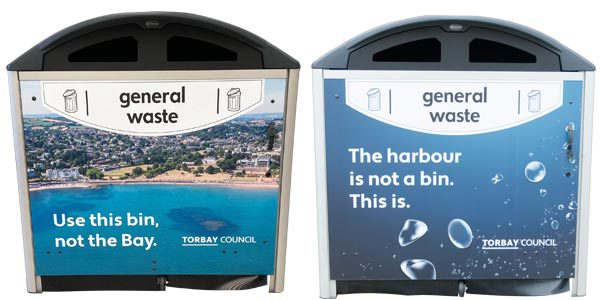 As public confidence begins to grow again and the final pieces of the big re-start are unlocked, last minute daycations and staycations will inevitably boom. Of course, this is great news and we've already seen these positive signs in between lockdowns, waves and whenever Mr Blue Sky has kindly paid us a visit.
Unfortunately, the impact of this collective renewed zest for life and love of visiting the great outdoors, has also been evident in the masses of unwanted reminders of fun times that are left and often scattered behind.

In a bid to tackle the litter problem head-on, community leaders began responding to the early warning signs of issues relating to the surges in the volumes of waste being generated by our en masse excursions.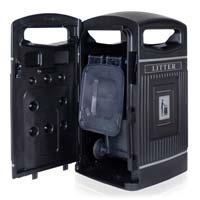 The solution for many has been the introduction of litter bins and recycling stations with a much larger capacity for the volumes of waste being created by the surges in footfall to their popular outdoor destinations.
Not only larger bins though, but solutions which neatly and attractively cover 240 and 360 litre wheelie bins and commercial wheelie bins of up to 1280 litres. Containing and covering the bins is as much about keeping the waste inside as it is about keeping pests and seagull friends out! And when sited in locations which are accessible to collection teams and vehicles, these wheelie bin housings can also be critical to creating operational efficiencies.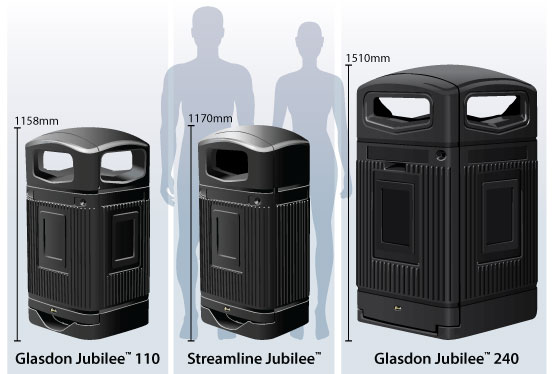 Some models, such as the Glasdon Jubilee™ 240 Litter Bin have been designed to look like traditional street litter bins, while their super-sized design allows for the secure storage of a standard 240 litre, 2-wheeled wheelie bin.
Alternatively, the more contemporary styled Nexus® 360 range of outdoor litter and recycling bins (pictured below) can house a standard 240 or 360 litre wheelie bin. Its modern contoured surface design and wide choice of coloured, moulded apertures make this model an attractive, eye-catching solution for simple and effective waste sorting in high footfall locations.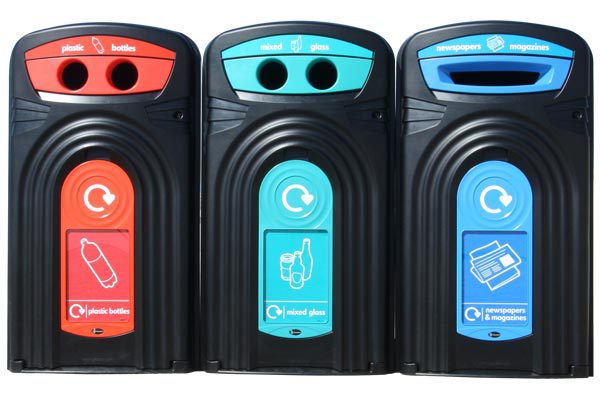 In light of the recent surges in on-the-go waste and potential for littering, communities have also been utilising the high-capacity Modus™ Bin Housing system to make a real visual impact and get their message across.
This large, hooded wheelie bin storage system is available in two sizes and can securely house standard commercial wheelie bins of 600, 660 and 770 litres (Modus 770) or waste containers of 1,100 or 1,280 litres (Modus 1280).
As well as offering a wide selection of coloured, moulded apertures and waste stream graphics, one of the additional benefits of the Modus system is the versatility of its Ecoboard™ panels. The core of the panels does contain 100% recycled material, hence its eco-credentials, however the finish on the panels also means they can be easily customised with personalised graphics and artwork.
There is no doubt that coupled with its extra-large size and capacity, this additional design feature can really boost the visibility of the community's efforts in tackling littering, while encouraging residents and visitors to take responsible action with their waste.
Learn more about the benefits of the Modus Bin Housing system with our 5 Tips to Improving Communal Recycling.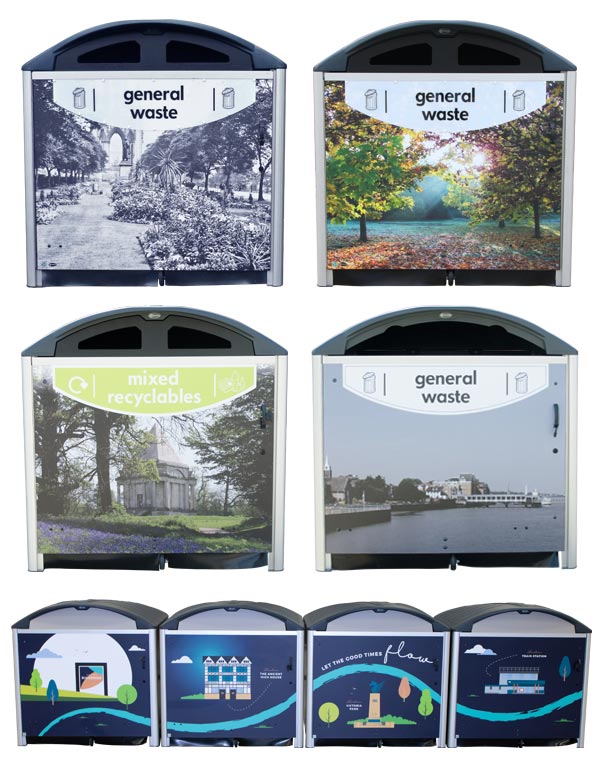 Alternatively, please talk to our team of experts today. We're available via LiveChat on this website or don't hesitate to contact us or request a callback.