Local authorities across the UK have cut their unmetered electricity costs by up to 91% by switching their traffic sign downlights to a more sustainable and cost effective alternative.
A typical Type A / Type B CCFL (Cold Cathode Fluorescent Lamp) illuminated sign light consumes up to 46 watts.
The Glasdon Lumino City™ range of LED downlighters illuminate traffic signs up to 750mm or 1500mm diameter and offer reduced power consumption from as low as 2.8 watts and up to just 8 watts!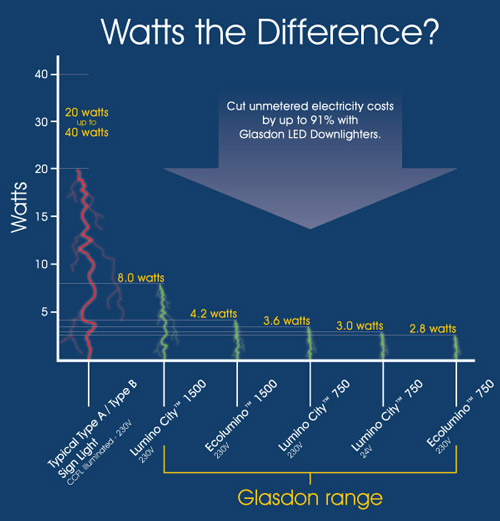 Introducing Lumino City 750 & 1500 LED Downlighters...
Choose Lumino City 750 for sign faces with diameters up to 750mm and Lumino City 1500 for larger sign faces up to 1500mm.
The Lumino City range offers low power consumption without compromising on luminance performance. The light conforms to BS EN 12899-1 Class UE3 for uniformity of illuminance, and Class E2 for mean illuminance.
And constructed with Glasdon Impactapol® the downlighter housings are specially designed to absorb vehicle sideswipes, returning to their normal position after a collision.
Please note, the Ecolumino™ is no longer part of our downlighter range.
Key features of the Lumino City range: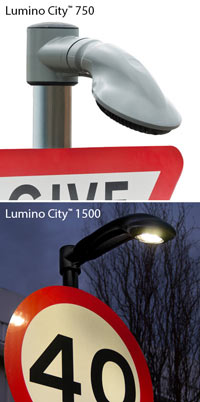 Energy efficiency:

Reduces energy costs, maintenance and carbon footprint. Lumino City 750 can be mains powered using as little as 3.0 watts. Lumino City 1500 is mains powered using just 8 watts!

High performance optics:

Optimal light spread and uniformity using the fewest LED's possible for better reliability and lower power usage.

IP66 rated housing:

Totally dust tight and protection against powerful jets of water from any direction for a long product life with reduced maintenance.

Zodian infrared photocell:

Draws minimal standby power and ensures the unit is only illuminated during the hours of darkness. UMSUG Code 94 0001 1000 100.

LED life span:

The LED's have a minimum life span of 50,000 hours. Equating to approximately 10 years when operated with the built–in Photocell or with a CMS device.

Variety of fixings:

Innovative 4 in 1 Bracket Option offers a choice of double or single sided 76mm or 89mm fixing brackets for post top or mid post fixing. Universal brackets for wider posts and wall fixings, offset and specialist brackets are also available.
For Optimum Control – Just Add...
Central Management System (CMS) internal cradle:

Integrate with existing or new CMS through installation of CMS telecell devices inside the housing. The telecell is completely enclosed for maximum protection, reducing the risk of vandalism or damage and ensuring interference free operation of the telecell.
Talk to us today about how the Lumino City range of LED downlighters can meet your specifications.
Use our live chat feature at the bottom of this page, call us on 01253 600411 or email highways@glasdon-uk.co.uk