Glasdon expands illuminated retroreflective range with market-leading Rebound Signmaster™ Ultralow Bollard.
As a retroreflective self-righting bollard (RSRB) with an ultra-low powered LED illuminated sign face, the Rebound Signmaster Ultralow Bollard provides a viable alternative to de-illumination. Reducing energy consumption to less than 0.45W, the new line of retroreflective bollards minimise running costs and carbon footprints and is our most energy-efficient illuminated retroreflective bollard to date.
Similar to the other models in the Rebound Signmaster range, the latest edition is crash tested to 70kph and is compliant with BS 8442:2022 and passive safety standard BS EN 12767:2019.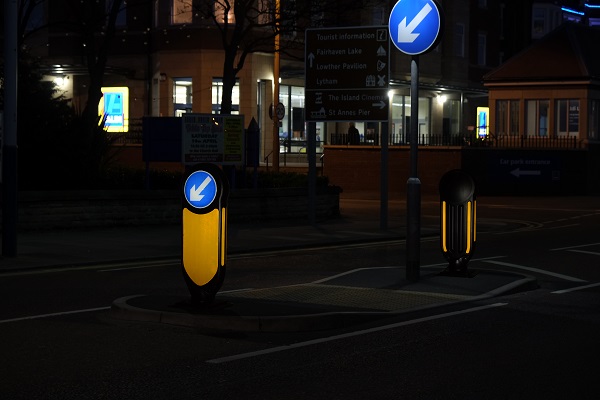 Benefits of Ultra Low Energy Illumination
Utilising a combination of 3M DG3 4081 side reflectors and retroreflective patches alongside ultra-low powered LED illumination, the Rebound Signmaster Ultralow Bollard helps to lower maintenance requirements, reduce installation and running costs and minimise light pollution. By running on less than 0.45W of LED power consumption, the new bollard also contributes towards lowering carbon footprints.
Since the TSRGD's relaxation around mandatory illumination in 2016, many schemes are upgrading to retroreflective bollards or low LED-powered alternatives. Manufactured in Durapol® material, the bollard is robust and offers a high level of protection to retroreflective panels and sign face to ensure a long service life with maximum performance. An Impactapol® material base also provides flexibility when impact occurs, allowing the bollard to return to an upright position in the event of a collision.
Switching from Existing Schemes
Specifically designed to ease the transition between installations, the Rebound Signmaster Ultralow Bollard makes switching from existing schemes or installing a new scheme easier than ever. A moulded-in mounting system also complies with multiple models of remote monitoring equipment to ensure CMS compatibility.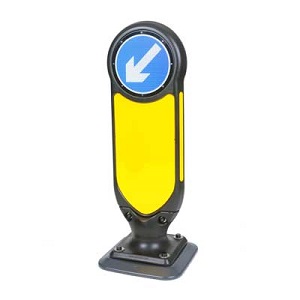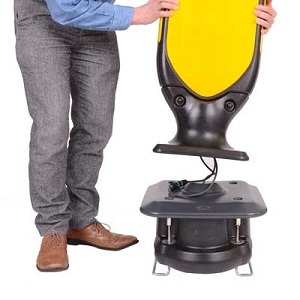 For new installations, an IP67 rated Sublite underground box offers glanded cable entry for a 230V mains feed to provide easy installation to the mains power supply, creating a reliable service life with minimal maintenance. The 230V mains feed also steps down the mains supply within the control circuit to 'Safe Voltage' of 24V to protect vehicle occupants and emergency services in the event of an accident.
Transitioning from an existing installation can be easily achieved using a conversion kit or adding a Rebound Signmaster Sublite Retrofit Lid to an existing Rebound Signmaster Sublite™ LED Lighting Unit & Underground Box.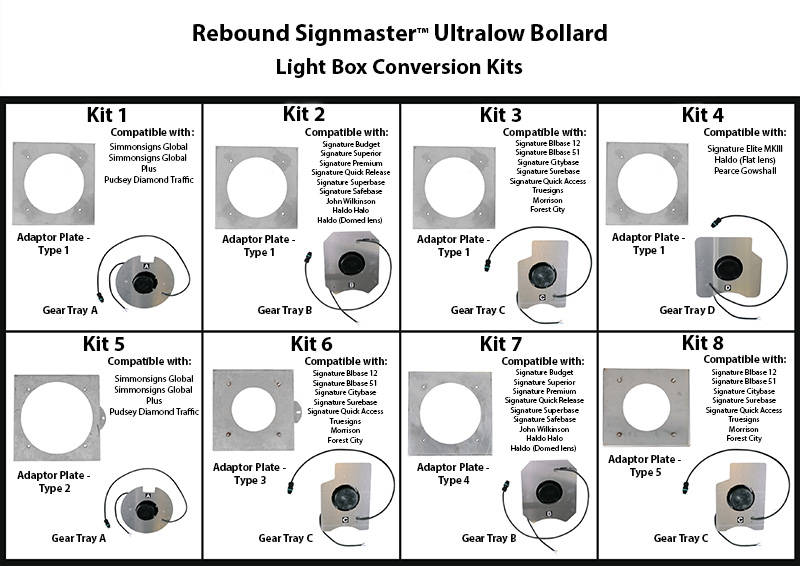 Download the Rebound Signmaster Ultralow Bollard Light Box Conversion Kits image.


Lifespan and Applications
The new bollard's 24V LED Unit has a minimum lifespan of 100,000 hours.
Typically used to highlight hazards at upcoming junctions, inform road users of lane closures and accentuate keep left or keep right lane restrictions, the Rebound Signmaster Ultralow is ideal when the cost of de-illumination and decommissioning an installation is prohibitive.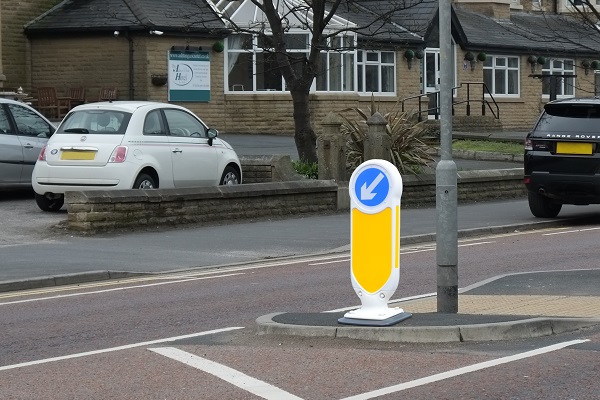 Available with a selection of directional front sign faces as standard, the bollard also offers optional rear retro patches to optimise performance on two-way roads.
John Cookson, Customer Support Manager for the Glasdon Highways Team, says:
"The launch of the Rebound Signmaster Ultralow Bollard means we can offer our customers a broader selection of robust and low-energy road safety solutions. As our most energy-efficient illuminated retroreflective bollard to date, the Rebound Signmaster Ultralow minimises running costs and lowers carbon footprints."
Key Features and Benefits:
0.45W LED Power Consumption – reduces energy consumption, costs, and carbon footprint. Energy costs as little as 39p per annum.
Universal Compatibility – allows compatibility with existing Signmaster installations and competitor installations (with the use of an adaptor plate).
Rebound Performance – the bollard rebounds after impact, reducing the need for replacement.
24V Operation Above Ground - protects vehicle occupants and emergency services by stepping down mains supply within the control circuit to 'Safe Voltage'.
Cable, Plug and Socket – allows for easy replacement if damage to bollard top occurs.
270mm Diameter Illuminated Sign Face – offers an L1 Luminance and U3 Uniformity.
Compliant to BS EN 12767:2019 and BS 8442:2022.
IP67 Rated Rebound Signmaster Sublite Underground Box – weather resistance and minimal maintenance.
3M DG3 4081 Side Reflectors – increase visibility at junctions.
3M DG3 4081 Retroreflective Patches – provides high visibility.
CMS Compatible – moulded-in mounting suitable for use with multiple models of remote monitoring equipment.
Talk to us today to discuss the requirements of your scheme. Alternatively, view the full Rebound Signmaster Bollard range.