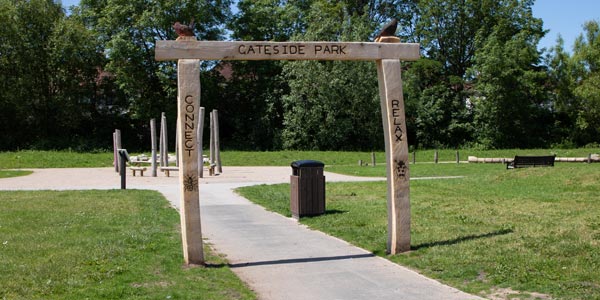 Blackpool Council, supported by Wilko, teamed up with Keep Britain Tidy as part of their Great British Spring Clean earlier in the year.
As part of this partnership, Keep Blackpool Tidy stickers were added to local bins, and Keep Britain Tidy supported a local project to revamp a Blackpool Park.
Gateside Park - a park located on the Grange Park Estate, is the centre of a small community and a place for all ages to connect, relax, and play.
A Community Project Officer for Keep Britain Tidy managed the redevelopment of the new park and was keen to create a welcoming green space for the whole community.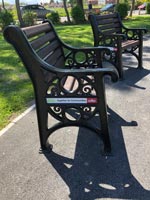 Gateside Park had already included a few Glasdon products, and so wanting to continue with further use of our products, the community project officer visited Glasdon to discuss introducing one of our newest products to the park.
A theme discussed was to have recycled plastic products placed alongside our Enviropol® range, which are manufactured from environmentally friendly materials.
This resulted in an order for a number of Lowther™ Seats for the park featuring Enviropol slats.
Single seat versions of the Lowther were also ordered aimed at wheelchair users and those with mobility issues, as the single seats have armrests closer together which allows users to easily push themselves up.
The new Pembridge™ Picnic Table was also selected, with a version for Wheelchair Access for a more inclusive seating solution.
To match the environmentally friendly aesthetic, Enviropol® 100 Litter Bins were ordered for the community to dispose of their litter to help #KeepBlackpoolTidy.
Gateside Park Open Day
Find out more about the products selected for the project below...
Key features of the Pembridge™ Picnic Table & Wheelchair Access version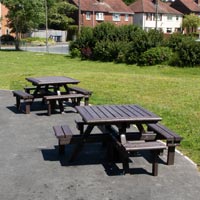 Manufactured from environmentally friendly seating materials.
Standard version offers easy seating access for up to 8 people.
Wheelchair access version seats 6 people with space for a single wheelchair or mobility scooter.
Rounded slats for safety and comfort.
Long lasting and never needs painting.
Weather resistant - will not rot.
Option for a Memorial Plaque or Parasol Hole.



Find out more
Key features of the Lowther™ Seat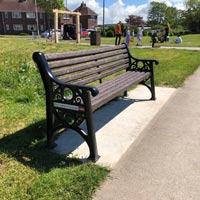 Cost effective polymer/metal seat.
Armortec coated aluminium seat ends (contains recycled content).
Traditional Styling.
Large selection of slats options.
Vandal-resistant, weather-resistant, has a robust design and requires minimal maintenance.
Co-ordinates with other Glasdon street furniture.
Optional stainless-steel memorial plaques with your choice of dedication can be supplied.



Find out more
Key features of the Enviropol® 100 Litter Bin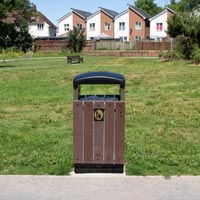 Designed to suit external, natural environments.
Curved shaped hood ensures water does not collect on top.
Manufactured from 100% recycled Enviropol and Durapol® materials.
Zinc-coated steel liner or Durapol liner.
It is 100% recyclable, corrosion and vandal resistant.
Can be permanently set into concrete foundations.
Anti-burst lock - key to open, slam to lock.



Find out more
For more information on our
Recycled Material Seating
and
Outdoor Litter Bins
, feel free to browse our website, or contact us today via LiveChat!