When it comes to outdoor seating, cast iron benches are a popular choice, but the use of cast iron is not always the best choice or the only solution available. By simply using a different material such as cast aluminium, the service life of a park bench can be drastically improved – and here's why...

Corrosion and rust resistance
Cast iron is a relatively pure form of iron which therefore makes it subject to corrosion and rust from various weather conditions. Cast aluminium, on the other hand is weather resistant meaning that it won't corrode or rust easily, and so will have a longer product life than a cast iron bench.
At Glasdon, we understand that the longevity of your products is important to you. Many of our outdoor seating products are produced using a specially formulated Armortec® coating – a corrosion resistant coating designed to last longer than a standard metal paint finish. This will further enhance the appearance and quality of your chosen Glasdon bench.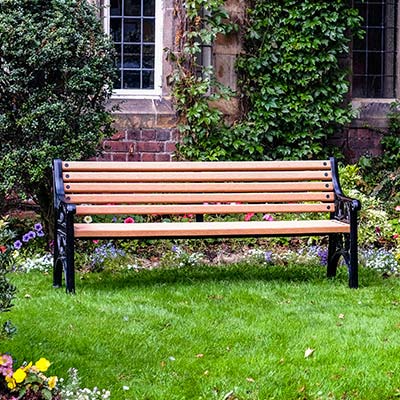 As a consequence of being prone to rust, cast iron benches need yearly maintenance in order to ensure they retain a level of quality, which can be both costly and time consuming.
Alternatively, a bench made using vandal resistant cast aluminium will require little upkeep – a quick wipe with a damp cloth – to keep it looking clean and fresh for longer, and so makes for a more practical choice.
We are focused on producing high quality products from the best materials available, such as cast aluminium. The new Lowther™ Seat is a modern outdoor bench which utilises recycled cast aluminium for the seat ends, making it a desirable product that needs little maintenance once it has been fitted.
Cast iron tends to absorb heat when in direct sunlight, which can cause it to crack in extreme conditions. In turn, cast iron can be very cold and brittle on cooler days, making it susceptible to breaking when pressure is applied despite its hard exterior – an undesirable trait when it comes to seating.
Cast aluminium, however, remains cool in the sun and is unaffected by the weather, making it a practical material for outdoor seats and benches to withstand the elements all year long.
Although a bench needs to have enough weight to keep it planted firmly on the ground, the lighter it can be, to make for an easy installation, the better. Cast iron is an extremely heavy metal which means that it requires more man power and assistance to move it from one place to another.
Cast aluminium, on the other hand is lighter, whilst still being a strong and durable material. This means that it does the job intended, without creating extra work for the people in charge of transporting the product to its desired location.
How do Glasdon use cast aluminium in their seating?
Glasdon offer a selection of benches, some of which feature cast aluminium seat ends. Examples include Lowther™ Seat and Stanford™ Seat.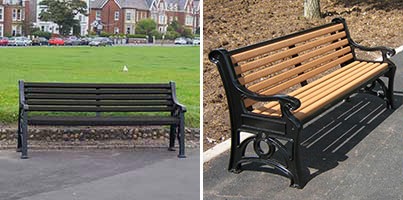 Cast aluminium is recyclable at the end of its product life, a quality which is important to us at Glasdon, meaning the use of this metal can help contribute to a more sustainable future further down the road.
You can find out more about the different materials used in the Glasdon seating range here.
For more information on the range of benches and seating that Glasdon offer, please feel free to browse our products or contact us today!
Email us enquiries@glasdon-uk.co.uk
Call us on (01253) 600410
Live chat with us on our website
Wednesday, December 6, 2017