As awareness and understanding of the role of recycling in the circular economy increases, it would seem obvious and right that more and more organisations would be sourcing and / or replacing their stocks with sustainable solutions and products where practicable.
Indeed, we can confirm that organisations in the UK and across Europe are.
The demand for sustainable street furniture made from recycled materials or material which can be recycled at the end of its service life continues to increase.
However, we also understand that demand cannot be simply based on ethics alone.
It is our responsibility as manufacturers to ensure that the recycled material and design of the product strives to outperform traditional solutions on functionality, maintenance costs and value for money, while helping community leaders demonstrate some of the real tangible benefits of a circular economy.
Exploring Enviropol® - a recycled material used in the manufacture of street furniture
Glasdon first introduced Enviropol into its range in 1993.
This recycled material is predominantly produced from post consumer and industrial polythene, including used supermarket carrier bags, and it is the result of the increased availability of 'quality' segregated and uncontaminated waste for recycling.
The advances in the control and separation of recyclable waste means that we can maintain strict controls over the recycled materials used to formulate Enviropol.
This ensures that only those with the required physical properties are specified in the manufacture of this premium recycled product.
Today Glasdon design and manufacture a range of seats, benches and picnic tables using Enviropol.
Sustainability that Outperforms on Design, Operational Costs and Value for Money
Solid performance in the great outdoors
Enviropol is dense, strong and weather-resistant, ensuring Glasdon seats, benches and picnic tables have a long, virtually maintenance-free service life.
Available in black and brown, it is self-coloured and therefore does not require painting or any additional surface treatment at any time.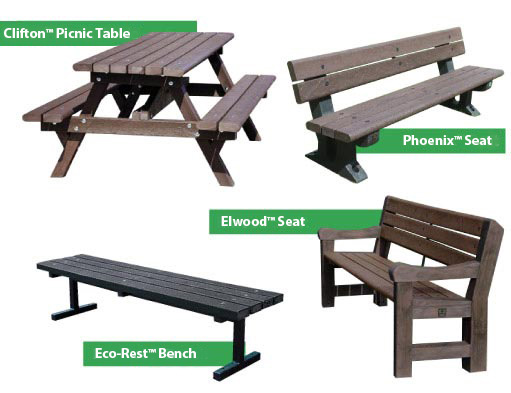 The material is resistant to chemical attack and impervious to water, frost and most corrosive substances. It won't rot or rust.
Enviropol is unaffected by brine, animal waste, bacteria, fungi and insects.
Sustainability
Enviropol is also 100% recyclable when it reaches the end of its service life.
The recycled logo demonstrates the sustainability of the product and commitment to protecting the environment.
Quality by Design
Enviropol is the primary material used to manufacture Glasdon Picnic Tables, the Phoenix® Seat, the Eco-Rest™ bench and the Eco-rest™ Seat.
All of these seating products are rigorously tested by our in-house Quality Assurance Department for strength and durability, ensuring maximum resistance against the numerous challenges faced in external environments.
If you would like more information about the Glasdon range of recycled material seating products or would like to talk to one of our experts online please use the Live Chat feature on this website.
Alternatively contact us today!
Thursday, February 16, 2017